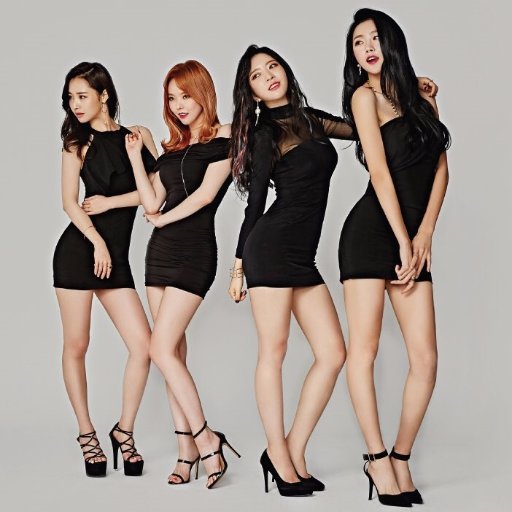 Dal ★ Shabet (달 샤벳) to południowokoreański girlsband działający pod skrzydłami Happy Face Entertainment, a który zadebiutował 3 stycznia 2011 roku z piosenką "Supa Dupa Diva".  23 maja 2012 r. ogłoszono, że Viki chce opuścić grupę, aby kontynuować karierę solową. 24 maja wyszła wiadomości od wytwórni, że zostanie zastąpiona ona nową członkinią, Woohee.
W 2013 roku grupa została uwikłana w skandal wokół ich piosenki ""Be Ambitious" – 'Man of Korea' wniosło przeciw niej pozew sądowy i zarzuciło grupie i jej wytwórni: "Tekst i teledysk 'Be Ambitious' okazują brak szacunku kobietom i mężczyznom, co jest szkodliwe dla słuchającej młodzieży. Teledysk zawiera także sceny, które pokazują brak szacunku 600,000 żołnierzom , którzy ciężko pracują na swojej służbie". Po wspólne konferencji prasowej 'Man of Korea' i Happy Face, pozew został wycofany. 
W 2015 roku, po japońskim debiucie grupy, kontrakt Jiyul i Kaeun z Happy Face Entertainment dobiegł końca – dziewczyny opuściły grupę. Obecnie w grupie znajdują się cztery członkinie:  Serri, Ah Young, Woohee i Subin.
Oficjalny Fanclub: Darling
Profile
---
Byłe członkinie 
---
Viki (Liderka, raperka) (2011-2012)
Jiyool (Wokalistka) (2011-2015)
Kaeun (Wokalistka, raperka) (2011-2015)
Dyskografia
---
Albumy:
Mini-Albumy:
[2011.01.04] 

Supa Dupa Diva

[2011.04.14] 

Pink Rocket

[2011.08.11] 

Bling Bling

[2012.01.27] 

Hit U

[2012.11.13] 

Issji Eobsji

 (있기 없기; Have, Don't Have)
[2013.06.20] 

Be Ambitious

[2014.01.08] 

B.B.B

[2015.04.15] Joker Is Alive

[2016.01.05] Naturalness

[2016.09.29] FRI. SAT. SUN
Współpraca:
Turn Your Head (Serri & Subin) / God's Quiz 2 Ost (2011).

Christmas Time / Dungeon & Figther promo (2011).

I Love You / Sket Dance Theme Song (2011).

Love Tonight / "4men" All Members (2011).

Win The Day / 모두 애쓰리 (Feat. 2PM, missA, ZE:A, Sistar, MBLAQ, Nine Muses, B1A4, 4minute) – TEAM SIII – Win The Day (2012).

It's You / All About My Romance OST (2013)

Rockin' Around the Christmas Tree / MINX (2014).
Japońska Dyskografia:
[2015] Hard 2 Love (singiel album)

[2015.11.04] The Best 
Nagrody
---
Bugs Music Awards – Best Rookie (2011)

GALLUP Korea – Best New Female Group of 2011 (2012)

26th Golden Disk Awards – Rookie Award (2012)

Ministry of Health and Welfare – Campaigning Award (2012)

Homme Music Award – #1 Played Song (2013)

Japan Gold Disc Award – Best New Asian Artist (2016)

MAXIM K-Model Award – Best Cover Model Award (2016)
Filmografia
---
Teledyski:
Filmy:

[2012] Wonderful Radio 

(gościnnie)
Telewizja:
[2011] Dream High 

(gościnnie)

[2011] Dal Shabet's Sweet Sweet Story

[2011] Dal Shabet's Cool Friend

[2012] Love Pet (Japan Mnet)

[2012] Music Of The God 

[2012] A Sweet Date with Dal Shabet (Arirang TV)

[2012] GURUPOP (ep. 12)

[2013] Shabet On Air (seria)

[2013] Star Date

[2013] Weekly Idol

[2013] Let's Go! Dream Team

[2013] The Three Colors of Korea (ep. 05)

[2014] Hello Counselor (Subin i Woohee)

[2014] JJANG! Interview

[2015] YAMAN TV (ep. 15, wraz z Crayon Pop)

[2015] Pops in Seoul

[2015] Music Video Stardust

[2015] Dal★Shabet's Halloween Party

[2015] Miral Welfare 

[2016] Dal Shabet Crisis Escape

[2016] Weekly Idol

[2016] Hello Counselor (Ayoung & Subin)

[2016] Mnet's Meet & Greet

[2016]  Pops in Seoul Q & A 

[2016] Kang On Fighting 

[2016] Weekly Idol (z DIA)

[2016]  Top Gear Korea Season 7 

[2016] The Immigration

[2017] Planman
Oficjalne strony